| | |
| --- | --- |
| | Phone: 01392 927 567 |
Medical Trolleys
The Sunflower Vista medical trolleys (Medi-Tray) carts and our storage modules are extensive, with options to suit all applications and environments, from GP or hospital consultation and treatment rooms. Mobile storage solutions have considerable financial benefits over fixed furniture, there is no need for expensive installation and in the longer term refurbishment and maintenance costs are considerably less. Tilt & locking tray runner system Trays integrate with all other Vista Medi Tray products
Pharmacy Trolleys
A range of pharmacautical trolleys designed specically for use by pharmacist professionals, our drug storage trolleys are designed to eliminate potential security risks arising when trolleys and carts are left unattended during delivery rounds. Medications and controlled drugs narcotics are securely locked away while in transit. We sell Pharmacy porter trolleys designed to improve workflows, assisting Arx and Mach 4 robots - automatically dispense your medicines directly into tote box carrier carts ready for distribution.
Surgical Trolleys
A range of Surgical Trolleys are available in three sizes. Premium materials used and finished to highest standards, our range of 'mirror polished' surgical trolleys provide the very best in hygienic mobile support for theatres and cinical. Build quality is functional and durable. Shelves can be made to have lips or flanges up or down depending on your departments preference. Premium quality stainless steel shelves, trays and frame (304 grade) BS 4068 : 1977 Compliant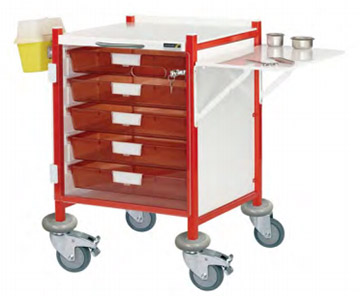 Medical Trolleys & Pharmacy Trolleys
All our trolleys are designed and manufactured in the UK and exceed the high requirements of the healthcare industry. Standard ranges are design for use in healthcare environments and pharmacy areas, applications include monitored drug dosage distribution, surgical and dressing trolleys, secure transportation of controlled drugs and many more.
In-use throughout the UK.
VISTA Trolleys can be fully utilised to different needs with a wide range of accessories.
Trollys can be fitted with optional buffers or braked wheels/castors.
Bespoke trolleys trolleys can be manufactured on request.
All medical trolley products have a minimum 1 year guarantee against manufacturing defects, from date of delivery. Please check individual specification sheets for more details as some items sold do have longer warranty periods. If you are purchasing a trolley for theatre use, we have anti-static castors available. Also consider upgrading to buffered wheels to protect your walls against knocks.
- Guarantee
Why buy a professional UK made medical trolley product? Because you have assurance that all trolleys have been tested for durability, ease of cleaning and most importantly been designed for the medical task intended. Items sold on this website are purchased by the NHS and Private Healthcare Organisation's and the fact they keep buying from us on a regular basis is proof they are happy customers.
- Made in United Kingdom
HELP IS ON HAND. If you do not see the exact medical trolley or healthcare cart product you are searching for please ask our advisors for assistance, many of our standard medi-carts can be customised to accept a large variety of useful accessories to make it easier for professional nurses to perform tasks. Or we can manufacture a healthcare trolley to a bespoke size.
- Please call or email a question if you need assistance?